Advil Plus Acetaminophen Fights Pain 2 Ways by combining two trusted medicines, ibuprofen and acetaminophen, into one convenient tablet.
This combination provides up to 8hrs of relief for tough pain like headaches, migraines, back, muscle, joint, and menstrual pain. It reduces fever and relieves pain from inflammation associated with arthritis. Available in 18ct and 36ct sizes.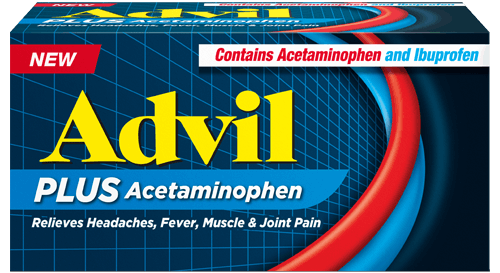 FOR FAST AND EFFECTIVE RELIEF OF:
Headache
Migraine pain
Backache, neck, and shoulder pain
Muscle and Joint pain
Pain from inflammation associated with arthritis or physical over-exertion
Menstrual pain
Dental pain & toothache

And for reduction of fever.
PURPOSE: Pain reliever / Fever reducer
For more information please see the product insert